You can find out more about the International Day here, and what you can do to contribute here.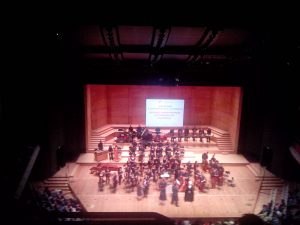 On Tuesday the 4th of April, the MYP students had a treat, a musical cultural day in the magnificent Gallus Hall of Cankarjev Dom. The RTV Symphony Orchestra gave a selection of music transcending genres entitled, "From Baroque to Musical Comedy". Beforehand, the students had workshops on concert etiquette, in which they prepared posters, rubrics, comics and short plays, to prepare them for their day. The students were enriched by their classical music experience, and gave a rapturous applause at the finale. Congratulations to the orchestra. A fine day!
U10
The match against ND Bravo, which should have been played next weekend, will be played this Tuesday, 4 April at 17:00 at the sport park Ljubljana (ŽAK). If you choose not to participate in the game, you can leave your child in training, which will be held at the school according to the regular schedule: 15:30 to 17:00 under the guidance of the coach Uroš. For information on the Soccer Academy go to the Soccer Academy page.
Kind regards,
Alen Grbec