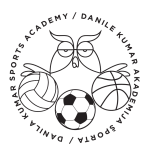 Sports Academy/Športna Akademija
JOIN US AT DANILA KUMAR SPORTS ACADEMY
The Sports Academy is intended for students from 1st to 5th grade of the International and national departments of Danila Kumar Elementary School and is not intended for professional training or replacing a professional coach, but rather in a playful way, adapted to the age of the children, learning about the purpose of individual ball games and connecting only – with personal growth.
WHAT WILL WE DO?
We will get to know 4 different sports: MINI VOLLEYBALL,MINI BASKETBALL, MINI HANDBALL and FOOTBALL.
Each aforementioned sport will last for about 2 months through various fun and interesting games, after which we will focus on the next sport. During this time, the students will master the specific elements of the basic motor skills of movement with and without the ball, as well as the basic rules of the game of each sport.
WHO IS THE COACH, WHEN AND WHERE?
COACH

GRADE

TIMETABLE

WHERE?

Sports Academy

Denis DIVJAK

KG&1

Tue & Wed, 13.45 –14.45

Dome, SG

Sports Academy

Jasna LAVRENČIČ

2&3

Mon, 13.45 –14.45

Tue, 14.45 – 15.45

Dome, BG,SG

Sports Academy

Mitja URŠIČ

4&5

Mon, 14.45–16.15

Thur, 13.45–15.15

Dome, BG, MG
PRICE:
KINDERGARTEN, 1.,, 3 GRADE: 2 x per week 60min: 20€
and 5. GRADE: 2x per week 90min: 30€
THERE CAN BE A MAXIMUM 20 STUDENTS IN EACH GROUP!